"We are working on the establishment of selective breeding centers to provide our farmers with highly efficient genetic material. We have seen a number of successful models at the exhibition. The new projects of such facilities are displayed at the exhibition. They will shortly appear in our regions, which will allow for complete covering of the needs of our agricultural industry in a medium-term outlook," said Mikhail Mishustin.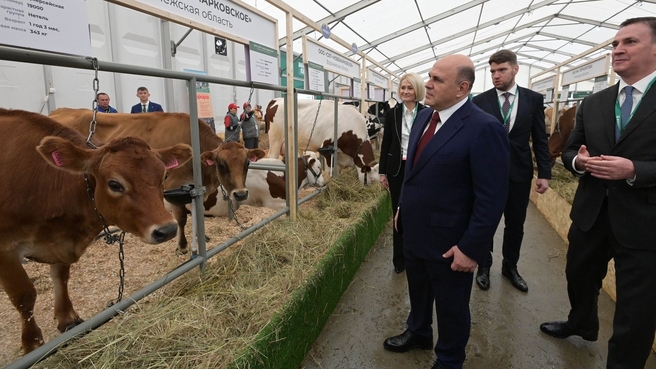 Holstein cows raised at Aurora factory in the Vologda region were displayed in the Animal husbandry sector of the Golden Autumn – 2022. This breed is known for high milk production: one cow produces an average of 14,000 kg of milk per year. Moreover, all breeding characteristics and data on each animal are monitored via Russian information system.
Dairy cattle breeding is one of the priorities for agribusiness development. The support received from the government allowed farmers to increase milk production, which is expected to reach 32,5 million tons in 2022.
A total of 47 billion rubles were allocated in support of dairy cattle breeding in 2021, including 10,5 billion rubles assigned for the purchase of feeds, which allowed preserving dairy livestock in many regions during the drought.
Information Note:
The Russian Agricultural Exhibition "Golden Autumn" is one of the major career-focused events in Russian agribusiness. In 2022, the exhibition will be held for the 24th time from October 5 to 8 at the Patriot Exhibition and Convention Center.
More than 100 exhibiting companies engaged in different agricultural sectors will take part in the exhibition. The federal constituent entities of Russia will also display their accomplishments in agribusiness. Visitors will be able to see the latest models of agricultural machinery and equipment, the best livestock breeds, and scientific advances.
Besides that, about 40 business events will be held as part of the Golden Autumn 2022, which includes forums, round tables, and panel discussions devoted to the most relevant industry-related topics.